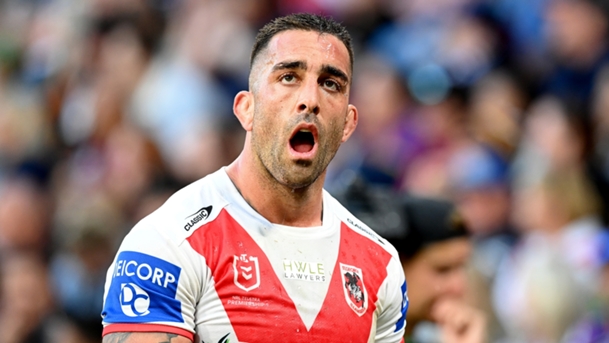 Category: Current Affairs, Sports
Nationally Acclaimed Handegg Expert Shocked And Dismayed When Rules Apply (Somewhat) Equally To Him
"The Rules Are Only Meant To Apply To Commoners," Says Man Who Can Run Really Good While Holding Ball
Now-disgraced professional Australian handegg player Paul Vaughan was reportedly "shocked and dismayed" when he suffered actual, tangible consequences for his actions instead of his conduct being swept under the rug and dismissed as 'boys being boys' as it usually would.
Vaughan's $800k per annum contract was cancelled 15 months before its expiry, and he received a $50k fine from the NRL board (along with an 8 match standing ban) for hosting a weekend bender for him and his mates and their mates and all their latest arm candies during some of the strictest COVID lockdowns seen in NSW since the start of the pandemic.
Vaughan's now-former club, the Dragons, had managed to smoke-and-mirror some of his previous conduct, including but not limited to two prior COVID biosecurity breaches of both rules enacted by the NRL's governing body and Public Health Orders enacted by the government, and unbecoming conduct towards women.
Vaughan's buddies, some of whom hid under beds and in cupboards when the police came to break up the party, have been hit with lesser fines and suspensions as the NRL tries to make an example out of this bungle of a situation.
We reached Vaughan by phone for comment, who privately said: "This is utter bullshit. We're football stars, we can do what we want. Nobody ever says it out loud but everyone knows it. We don't even get punished for drink or drug driving.
I even went on the morning news shows and pretended I was upset about what I did, isn't that enough for these people? What more do they want from me? My life is forever changed because of something I did. That's not meant to happen to famous people. The rules are only meant to apply to commoners. Full credit to the boys.
I'm legally obligated to say that last bit. Sorry."
Now-disgraced professional Australian handegg player Paul Vaughan was reportedly "shocked and dismayed" when he suffered actual, tangible consequences for his actions instead of his conduct being swept under the rug and dismissed as 'boys being boys'…